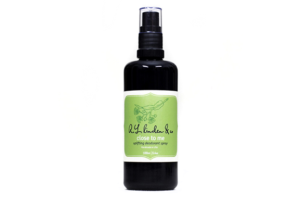 EFFECTIVE all-­natural deodorant spray with uplifting aromatherapy and flower essence benefits. Spray on pits, bits, feet, yoga mat, shoes and anywhere that needs de-­stinking!
Tamanu Oil & Olive Leaf Extract are high in antimicrobial compounds and stop the stink before it starts
 Natural, 100% essential oil based fragrance is a blend of Floral (rose) and Citrus (earl grey tea) top notes grounded with Earthy and Vanilla base notes. The scent develops differently on each person, but the most common questions we hear are, "What perfume are you wearing?!" and "Who smells like roses?!"
The Uplifting and Mood Balancing aromatherapy benefits of Bergamot and Rose Geranium essential oils, combined with our blend of flower essences make this a wonderful combination for those who aren't naturally a "morning person"
"Close To Me" has the highest percentage of essential oils of any of our products, shake well before spraying. Some, especially those with very sensitive skin, may experience a slight tingling sensation that subsides soon after application. We highly suggest ordering a sample size first to ensure that you enjoy the fragrance and that it works well with your chemistry before purchasing the full size.
Ingredients: Witch Hazel; Organic Olive Leaf Extract; Organic Tamanu Oil; A Proprietary Blend of Essential Oils (including Rose Geranium and bergaptene-free Bergamot) and Flower Essences (Including Borage and Dandelion)