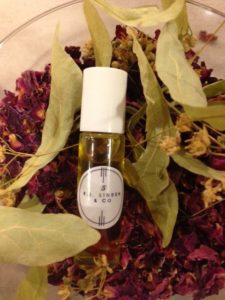 $48.00
Our perfume oils contain no synthetics, phthalates or isolates and are created with only pure, plant-based, organic, raw and wildcrafted essential oils, absolutes and resins in a base of organic jojoba oil and fractionated coconut oil.
Ironwood #1 – A hypnotic and woody sacred anointing oil with notes of copal resin, frankincense tears and palo santo sticks; inspired by Ironwood Collection.
Ritual #2 – A sexy and warm gourmand scent with notes of cacao nibs, bitter almond shells, spiced cardamom and aged cognac; inspired by Ritual Chocolate.
Dram #3 – A native woodland scent with notes of fresh juniper berries, foraged rose hips, wild sage bitters and evergreen needles; inspired by Dram Apothecary.
Beet & Yarrow #4 – A Victorian floral scent with notes of sweet violets, tuberose, fresh cut stems, broken twigs and muddled green leaves; inspired by Beet & Yarrow.
R.L. Linden & Co #5 – A feminine, sweet rose scent with notes of antique roses, pink peppercorns, vanilla bourbon and pink grapefruit peels; inspired by the aromas created when we blend at the R.L.Linden & Co studio.
Winter Session #6 – A rich and dignified scent with notes of cold pressed coffee, tanned leather, pipe tobacco and cedar pencils; inspired by Winter Session. *not vegan
Western Daughters #7 – A lush grassy scent with notes of freshly mown hay, cottonwood tree buds, sun-warmed prairie wildflowers and sweetgrass; inspired by Western Daughters. *not vegan