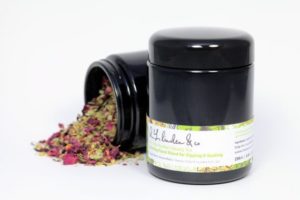 $ 21.00
As seen in Refinery 29!
Calming floral blend for sipping and soaking. Ms. Tilly Rosalie's Beauty Tea is a relaxing, delicate floral tisane that doubles as a facial steam, eye compress and aromatic plant bath.
Rose tea has been shown to Decrease Cortisol Levels (high cortisol levels from stress can cause premature breakdown of collagen)
Equal parts Floral and Tart, we love this tea hot or iced with a touch of raw local honey
This Relaxing blend is perfect to enjoy before/after yoga, meditation, prayer, massage or a spa treatment as it calms the mind without acting as a sedative
Steep tea, strain, freeze into ice cubes, use as a cold eye compress for an amazing De-Puffing Under Eye Treatment
Makes a Pampering Plant Bath, Linden is anti-inflammatory and soothes itchy and sensitive skin
Adds shine as a Hair Rinse for strawberry blonde, red and pink hair colors, Hibiscus subtly boosts color and encourages healthy hair growth
To Sip: Pour 1 cup of boiling water over one tablespoon of tea, steep for 5-15 minutes, strain, sweeten if desired, enjoy hot or iced.
16 ounces by volume
Ingredients: Organic Linden Flower & Leaf, Organic Rose Petals and Organic Hibiscus Flowers